Cashier Job Description, Career as a Cashier, Salary, Employment
Definition and Nature of the Work, Education and Training Requirements, Getting the Job
---
---
Education and Training On-the-job training
Salary Median—$7.81 per hour
Employment Outlook Fair
Definition and Nature of the Work
Cashiers handle customers' payments in retail stores, restaurants, theaters, and offices. Their exact duties depend on the business that employs them. Usually cashiers scan or type the price of items into a computer that calculates a total. They then collect payment for goods and services, make change, and hand out receipts. Cashiers may also issue cash refunds and credit slips to customers or cash checks for customers and employees. At the end of their shift, they must balance the amount of money they have taken in with the total sales recorded. They do this to make sure they have not made any mistakes. If the balance does not match up on a regular basis, a cashier can lose his or her job.
---
---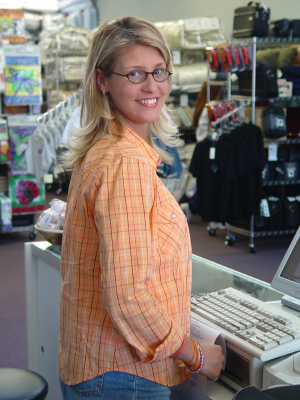 Some cashiers have additional duties, including paying for company supplies and equipment, preparing paychecks or pay envelopes, making out sales tax reports, or readying cash and checks for bank deposit. Many cashiers work flexible hours.
Cashiers who work in theaters also operate ticket dispensing machines and may give out information on the telephone. Those who work in restaurants sell candy, cigarettes, and other small items. They also may be required to know the prices of the various items on the menu. Some restaurant cashiers take care of telephone reservations, take-out orders, and hosting duties.
Most cash registers function like computer terminals. They report information about sales to a central computer or company computer network so that the store does not have to keep inventory. In most large operations and grocery stores cashiers pass merchandise price tags across a scanner. The scanner reads a bar code on the tags and records the price and item description onto a computer system. In small retail operations the cashier sometimes must enter a coded description of each item sold as well as its price into the cash register.
Cashiers who work in grocery stores and supermarkets must check coupons and food stamps to make sure they are valid. They may have to weigh and price produce and bag customers' purchases. In slack periods they sometimes help restock shelves and mark prices on items or shelves.
Cashiers in department, variety, and specialty stores may have to remove security devices from clothing. They tell customers whether purchases can be returned and, if so, under what conditions. They sometimes arrange to ship items to customers or other recipients. Some cashiers gift wrap merchandise and wrap packages for shipment.
Cashiers' duties vary depending on the type of business. In food service, cashiers ring up food items, replenish inventory, and assist customers. (Photograph by Kelly A. Quin. Thomson Gale. Reproduced by permission.)
Cashiers who work in offices often perform a variety of duties. They may act as receptionists, operate the switchboard, or provide office support such as word processing.
Education and Training Requirements
Employers prefer applicants who have a high school education and who understand basic mathematics. Some vocational high schools offer cashier courses, but most workers are trained on the job in the use of electronic or computerized registers and other aspects of the position.
Getting the Job
Newspaper want ads and Internet job sites generally list jobs for cashiers. Individuals interested in becoming cashiers can also apply directly to restaurants, theaters, amusement parks, retail stores, hospitals, hotels, and business firms.
Advancement Possibilities and Employment Outlook
Cashiers who work for large retail stores may become department managers or store managers. Those who work in offices may move into more responsible positions.
According to the U.S. Bureau of Labor Statistics, cashiers held 3.5 million jobs in 2004. Employment of full-time cashiers was expected to grow more slowly than the average for all occupations between 2004 and 2014. As more Americans buy products online, the need for cashiers will likely continue to diminish. Many retail operations, particularly grocery stores, are also installing self-service checkout systems that eliminate cashier jobs. Openings will occur as workers retire or leave their jobs. Opportunities for part-time work, however, remain good.
Working Conditions
Nearly 50 percent of cashiers work part time because restaurants and stores need more workers during rush hours than at other times. Full-time cashiers may work split shifts. Holiday, weekend, and night work may be required. Cashiers employed by large retail firms usually work a forty-hour week and are restricted from taking time off around the holidays as most stores are busiest at these times.
Cashiers need to have good finger dexterity and a knowledge of math. Many cashiers spend their working day standing in small, confined spaces that allow little physical movement. Cashier booths are often near doorways, which may subject cashiers to drafts and frequent temperature changes. Some cashiers work outdoors. Even when customers are impatient and demanding, cashiers must remain pleasant and courteous. Some cashiers belong to unions.
Earnings and Benefits
According to the Bureau of Labor Statistics, the median hourly income for cashiers in 2004 was $7.81. The top-paid 10 percent made more than $11.30 per hour. Benefits vary according to the employer. Large companies generally offer paid vacations and health insurance. Many stores offer their employees discounts on merchandise. Restaurants and cafeterias often provide free or discounted meals for their workers while they are at work. Some employers offer stock option and education reimbursement plans.
Additional topics