Hotel Housekeeper Job Description, Career as a Hotel Housekeeper, Salary, Employment
Definition and Nature of the Work, Education and Training Requirements, Getting the Job
---
---
Education and Training: On-the-job training
Salary: Median—$16,900 per year
Employment Outlook: Good
Definition and Nature of the Work
Cleanliness is one of the most important features a hotel or motel can offer its guests. Housekeepers, also known as maids, are the staff members who perform cleaning duties in these establishments.
Housekeepers may be assigned specialized cleaning duties. For example, most hotels have laundry facilities for cleaning towels, linen, bedding, and workers' uniforms. Some housekeepers work only in the laundry area, washing, drying, and folding these items and then stocking the linen storage rooms.
---
---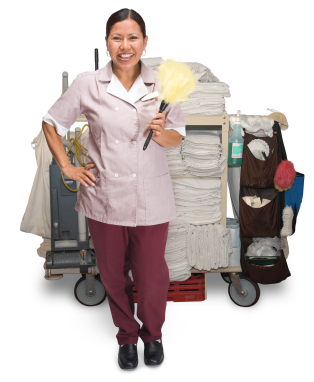 Other housekeepers only clean guest rooms. An especially thorough cleaning is done after the occupants of a room check out. Using a large wheeling cart to hold supplies, guest room housekeepers bring clean linen, bedding, cleansers, and all other necessary cleaning equipment to the rooms. The housekeepers replace soiled linen and towels; restock soap, tissues, and drinking glasses; disinfect bathroom surfaces; dust and polish the furniture; remove all trash; vacuum the carpet; and wash any uncarpeted floors. Before leaving, they check to make sure that the room is spotless and ready for new guests. If housekeepers notice anything in a room that is not working properly, they report it to their supervisor, the executive housekeeper. They also send to the lost-and-found department any articles that previous guests may have left in the rooms when they checked out.
Aside from doing laundry and cleaning guest rooms, housekeepers replace light bulbs, wash windows, empty ashtrays, and clean hallways and stairs. Some housekeepers make sewing repairs or upholster furniture. Others work in lobbies, lounges, and conference and banquet rooms, where they clean carpets and move and set up furniture. In small hotels housekeepers usually perform several of these tasks.
Executive housekeepers supervise house workers, purchase supplies and equipment, and prepare budgets for the housekeeping department. (© Martha Tabor/Working Images Photographs. Reproduced by permission.)
Education and Training Requirements
A formal education is not required to become a housekeeper, although employers prefer to hire people who have a high school education. Most hotels and motels provide on-the-job training. Hotel housekeepers must be able to work quickly and efficiently without invading their guests' privacy and should have a neat, clean appearance.
Getting the Job
The best way for prospective hotel housekeepers to find jobs is to apply directly to the hotels and motels in which they would like to work. Newspaper want ads and state employment offices often have listings for hotel housekeepers.
Advancement Possibilities and Employment Outlook
Housekeepers who have gained experience working in small hotels or motels can apply to luxury hotels that pay higher wages. Housekeepers in a large hotel or resort may be promoted to the position of executive housekeeper; however, since there is only one executive housekeeper in each hotel, advancement possibilities are quite limited. Budgeting, inventory control, and staff selection are among the duties of executive housekeepers. Usually years of experience, a one-year internship, and/or college courses in institutional management, business administration, or hotel services are needed to advance to the executive position.
The hotel, motel, and resort industry is expected to grow faster than the average through the year 2014, so the job outlook for housekeepers is good. As more hotels and motels are built to accommodate increased business travel and domestic and foreign tourism, the demand for all hotel workers will rise. Existing hotels and motels are always looking for new members for their cleaning staff, and resort hotels typically hire more housekeepers for the vacation season.
Working Conditions
Modern hotels and motels have the best cleaning equipment for housekeepers to use; however, the work is demanding. Housekeepers must bend, stoop, climb, and reach to clean in corners and inside closets. Moving heavy equipment and furniture can be exhausting.
Housekeepers typically work forty to forty-eight hours each week. They may rotate from a morning to an evening or night shift and are expected to take their share of weekends and holidays. Most housekeepers wear uniforms. Some employers provide them with uniforms or a uniform allowance; others require housekeepers to purchase their own uniforms.
Earnings and Benefits
According to the U.S. Bureau of Labor Statistics, hotel housekeepers earned a median annual wage of $16,900 in 2004. Experienced workers may earn more. Executive housekeepers' salaries vary with training, experience, and most importantly the size of the hotel or motel. Their median annual salary in 2004 was $29,640, but some executive housekeepers in large luxury or resort hotels reportedly earned more than $40,000 per year.
Hotel housekeepers sometimes receive tips from guests at the end of their stay and may get free meals during work hours. Most hotels offer full-time housekeepers paid vacations, some paid holidays, health insurance, and retirement benefits.
Additional topics