Registered Nurse Job Description, Career as a Registered Nurse, Salary, Employment
Definition and Nature of the Work, Education and Training Requirements, Getting the Job
---
---
Education and Training: College and possibly advanced degree
Salary: Median—$52,330 per year
Employment Outlook: Excellent
Definition and Nature of the Work
Registered nurses (RNs) work to promote good health and prevent illness. They educate patients and the public about various medical conditions; treat patients and help in their rehabilitation; and provide advice and emotional support to patients' families. RNs use considerable judgment in providing a wide variety of services.
---
---
Many registered nurses are general-duty nurses who focus on the overall care of patients. They administer medications under the supervision of doctors and keep records of symptoms and progress. General-duty nurses also supervise licensed practical nurses (LPNs), nursing aides, and orderlies.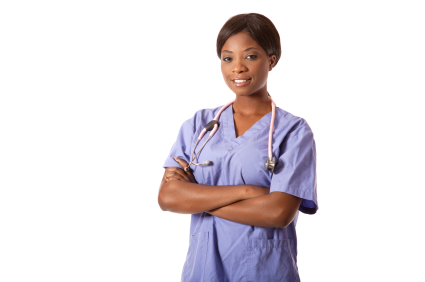 RNs can specialize: (1) by work setting or type of treatment—critical-care nurses work in intensive care units, and psychiatric nurses treat patients with mental health disorders; (2) by disease, ailment, or condition—HIV/AIDS nurses care for patients with HIV infection and AIDS, and addictions nurses treat patients with substance abuse problems; (3) by organ or body system—nephrology nurses care for patients with kidney disease, and respiratory nurses treat patients with disorders such as asthma; and (4) by population—school nurses provide care for children and adolescents in school, while geriatric nurses provide care for the elderly. RNs may also work in combined specialties, such as pediatric oncology (the care of children and adolescents with cancer) or cardiac emergency (the care of patients with heart problems in emergency rooms).
Some RNs choose to become advanced-practice nurses and get special training beyond their RN education. They are often considered primary health care practitioners and work independently or in collaboration with physicians. There are A registered nurse checks the vital signs of a hospice care patient. (© Michael Mulvey/Dallas Morning News/Corbis.) four categories of advanced-practice nurses: nurse-practitioners, clinical nurse specialists, Certified Nurse-Midwives, and Certified Registered Nurse Anesthetists.
The duties of nurse-practitioners include conducting physical exams; diagnosing and treating common illnesses and injuries; providing immunizations; managing high blood pressure, diabetes, and other chronic problems; ordering and interpreting X-rays and other lab tests; and counseling patients on healthy lifestyles. They practice in hospitals and clinics and often deliver care in rural or inner-city locations not well served by physicians. Some have private practices. Nurse-practitioners can prescribe medications in all states, and in many states they can practice without the supervision of physicians.
Clinical nurse specialists provide care in specialty areas, such as cardiac, oncology (cancer), pediatrics, and psychiatric/mental health. They work in hospitals and clinics, providing medical care and mental health services, developing quality assurance procedures, and serving as educators and consultants.
Certified Nurse-Midwives provide routine health care for women, but their practices are focused on pregnancy and delivery of babies. They lead classes in childbirth, sibling preparation, and care of newborns. If pregnancies continue without complications, nurse-midwives provide all prenatal care, assist mothers during labor, and deliver the babies. Following the births, they make sure that mothers and newborns are well and provide follow-up care. If emergencies occur, nurse-midwives are trained to provide assistance until doctors arrive.
Certified Registered Nurse Anesthetists receive special training in the use of anesthetics, which produce a state of painlessness or unconsciousness. They work under the supervision of anesthesiologists (physicians who specialize in anesthesia) or other physicians. Most work in operating rooms during surgery, but others administer anesthetics in delivery rooms, emergency rooms, and dental offices. Sometimes nurse anesthetists help to care for patients during recovery from anesthesia.
Some experienced hospital nurses are head nurses or directors of nursing services. RNs also work as nurse educators or as researchers in hospitals. They may become forensics nurses, combining their nursing knowledge with law enforcement. They often work with victims who have been assaulted. Many registered nurses work in private doctors' offices or clinics. They may assist such physicians as obstetricians and dental surgeons.
Education and Training Requirements
To become registered nurses, high school graduates can earn associate degrees in two-year nursing programs at community colleges; earn diplomas in three-year programs offered by hospitals or independent schools of nursing; or earn bachelor of science in nursing degrees (BSN). BSN programs usually take four or five years to complete and combine liberal arts courses with scientific and technical training. All programs include practical experience.
Those who have completed an approved program are eligible to take the national written licensing exam, which is administered by each state. All states require licensing.
The profession is moving toward two levels of nursing: technical nursing, which requires associate degrees, and professional nursing, which requires bachelor's degrees. Under this system, only nurses with bachelor's degrees would be eligible for RN licensing. The American Association of Colleges of Nursing (AACN) and other leading nursing organizations recognize the BSN as the minimum educational requirement for professional nursing. While graduates can begin practice as RNs with associate degrees or hospital diplomas, the BSN is essential for nurses seeking to perform at the case-manager or supervisory level. Students desiring to become advanced-practice nurses must obtain master of science in nursing degrees (MSN). Some nurses go on to earn doctorates.
Getting the Job
Nursing school and college placement services can help graduates find jobs. Graduates can also apply directly to hospitals, clinics, nursing homes, and doctors' offices. Those interested in community health jobs can contact public health departments, home health agencies, and visiting nurse associations. The armed services also have openings for nurses. In addition, professional nurse registries list openings for private-duty nurses.
Advancement Possibilities and Employment Outlook
Advancement in nursing depends on education, experience, and place of employment. Registered nurses can become supervisors of departments or specialists in particular fields of nursing. Those with bachelor's or master's degrees are more likely to move into higher-level jobs. Many positions in research, teaching, and administration require master's degrees or even doctorates in nursing.
According to the U.S. Department of Labor's Bureau of Labor Statistics, "Registered nurses are projected to create the second largest number of new jobs among all occupations; job opportunities in most specialties and employment settings are expected to be excellent, with some employers reporting difficulty in attracting and retaining enough RNs." Employment of registered nurses is expected to grow much faster than the average for all occupations through 2014. In part, increases in demand are due to technological advances in patient care, which permit a greater number of medical problems to be treated. In addition, the number of elderly people is projected to grow rapidly, which should spur demand for RNs in nursing homes and long-term care facilities. Employment in home health care is expected to increase the fastest; employment in hospitals is expected to increase the least, largely because patients are being released earlier to reduce costs. Also, technological progress is making it possible to bring complex treatments to patients' homes.
Working Conditions
Although working conditions vary with the place of employment, nearly all nursing jobs involve close contact with people. Good health and emotional stability are valuable assets. Nurses must be careful workers who take their responsibilities seriously. They must follow rigid guidelines to ensure the health and safety of themselves and their patients.
Registered nurses generally work forty hours per week. They may have to work some night and weekend shifts, especially if they work in hospitals. Many nurses work part time.
Earnings and Benefits
Salaries for nurses vary with education, experience, and area of specialization. In 2004 the median annual salary of registered nurses was $52,330 per year.
Benefits include paid holidays and vacations, health insurance, and retirement plans. Private-duty nurses generally charge a daily fee and must provide their own benefits.
Additional topics