Dermatologist Job Description, Career as a Dermatologist, Salary, Employment
Definition and Nature of the Work, Education and Training Requirements, Getting the Job
---
---
Education and Training: College, medical school, and specialty training
Salary: Median—$193,870 per year
Employment Outlook: Excellent
Definition and Nature of the Work
Dermatologists are physicians who diagnose and treat conditions and diseases of the skin, hair, and nails, such as fungal infections, acne (pimples), birth-marks, skin cancer, eczema (itching, scaling skin), warts, and psoriasis (red patches of skin covered with white scales). The dermatologist first examines the affected area and then may take blood samples, skin scrapings, or tissue samples. The dermatologist usually examines the samples under a microscope or analyzes them using chemical and biological tests. Once the diagnosis is made, the dermatologist treats conditions and diseases using various methods, including medication, surgery, and radiotherapy.
---
---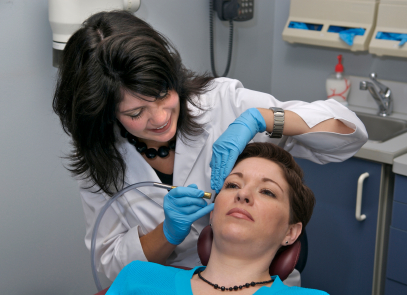 Dermatologists also perform cosmetic procedures on the skin. Some dermatologists may treat scars using methods such as dermabrasion, in which superficial layers of the skin are removed. Others may treat wrinkles using botox injections or other injectible preparations. They may also use laser therapy to remove age spots, treat visible veins, and reduce skin discolorations.
Education and Training Requirements
Like all physicians, dermatologists attend medical school after completing a bachelor's degree. After their internship, dermatology students complete a first-year residency program in one of the following: internal medicine, general surgery, family practice, obstetrics and gynecology, pediatrics, or emergency medicine. The next three years of residency must be in an accredited dermatology residency program. After their residencies are completed, dermatologists can take the certifying examination administered by the American Board of Dermatology (ABD). To maintain certification, dermatologists must take a re-certification examination every ten years.
Getting the Job
Dermatologists work in private practice, for hospitals, and for private clinics. Professional associations and medical colleges can provide information about going into private practice or finding a salaried position.
Advancement Possibilities and Employment Outlook
Dermatologists advance as they gain experience in the field and their practice grows. They may specialize in areas such as pediatric or cosmetic dermatology. They can also move into supervisory, teaching, and research positions.
Employment of physicians and surgeons is projected to grow faster than average for all occupations through the year 2014 due to continued expansion of health care industries. The population is growing and aging, and the need for dermatologists to diagnose and treat skin cancers will continue to rise. In addition, there will continue to be a demand for cosmetic procedures.
Working Conditions
Physicians generally work in clean, comfortable offices, clinics, or hospitals. Those who have their own practices can control some of their working conditions. Dermatologists who specialize in cosmetic procedures may have upscale offices with the latest equipment.
Earnings and Benefits
In 2006 the median salary of dermatologists was $193,870. Self-employed dermatologists arrange their own benefits. For those who are not self-employed, benefits generally include paid holidays and vacations, health insurance, and retirement plans.
Additional topics