Medical Assistant Job Description, Career as a Medical Assistant, Salary, Employment
Definition and Nature of the Work, Education and Training Requirements, Getting the Job
---
---
Education and Training: High school plus training
Salary: Median—$24,610 per year
Employment Outlook: Excellent
Definition and Nature of the Work
Medical assistants aid physicians by performing administrative duties and handling basic clinical tasks. They work in doctors' offices, hospitals, and medical clinics, helping to keep operations running smoothly and efficiently. The job description of a medical assistant varies from office to office. Some assistants do patient and laboratory work exclusively. Others are responsible for medical records, bookkeeping, and answering phones. In most small offices, medical assistants may handle all these tasks.
---
---
Most medical assistants work in private offices. Clinical duties vary according to state law. Some medical assistants may help doctors examine and treat patients. They may check the height, weight, temperature, and blood pressure of each patient. Assistants write down patients' medical histories and run simple laboratory tests. Sometimes they answer patients' questions about medicines and treatment at home. Assistants may also give injections, apply bandages, and take X-rays. Many assistants take electrocardiograms, which measure the electrical impulses of the heart.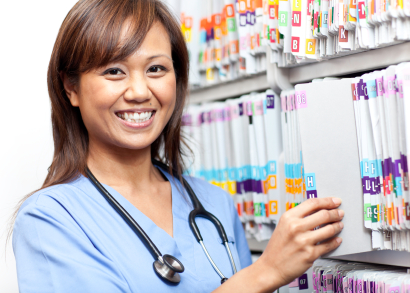 Medical assistants are sometimes in charge of buying and maintaining medical equipment and furniture for the doctor's office. They may also act as office managers. They plan the doctor's schedule, greet patients, file records and correspondence, and type letters and bills. Assistants keep medical records up to date and handle tax and insurance forms. At the doctor's request they arrange for laboratory tests or for a patient's admission to the hospital. In a large group practice or in a hospital clinic, the duties of the medical assistant may be divided among several assistants.
Education and Training Requirements
A high school diploma is required to enter this field. Although medical assistants can be trained on the job, most employers prefer to hire graduates of formal training programs. Vocational schools offer one-year programs resulting in a certificate or diploma. Community colleges offer two-year programs leading to an Most medical assistants help doctors examine and treat patients. Their duties include drawing blood, giving injections, and checking the height, weight, temperature, and blood pressure of each patient. (© Darryl Bush/San Francisco Chronicle/Corbis.) associate degree. Students study anatomy, physiology, medical ethics, and medical terminology. They learn laboratory techniques, clinical procedures, and first aid. They are also given practical training in computer skills, accounting, and insurance processing. More than 350 programs have been approved by the Commission on Accreditation of Allied Health Education Programs (CAAHEP).
A medical assistant can become certified or registered by various associations such as the American Association of Medical Assistants or the American Medical Technologists. This involves meeting certain training and experience requirements, as well as passing a national test. Certification and registration are not necessary for employment, but they give a person professional standing.
Getting the Job
High school placement offices may be able to help graduating students find a job. State employment offices and private employment agencies that specialize in medical job placements often list openings. In many communities, a local medical assisting association handles job openings throughout the country. Often, the local medical society serves as a clearinghouse for employment possibilities in doctors' offices. The want ads in newspapers and professional journals also list job opportunities.
Advancement Possibilities and Employment Outlook
Advancement can come with experience and further training. Medical assistants who show leadership qualities can become supervisors.
The employment outlook for medical assistants is excellent. Medical assisting is projected to grow much faster than average through the year 2014, according to the U.S. Bureau of Labor Statistics. It is expected to be one of the fastest-growing employment areas. The best job prospects are for medical assistants with formal training, experience, or both. Medical assistants with word processing and computer skills will also have an advantage.
The growing needs of an aging population combined with an increase in the number of doctors contribute to a greater demand for medical assistants. Also, more diagnostic testing and a heavier, more complex volume of paperwork will cause employment growth. Many doctors need at least one assistant, and large group practices, clinics, and hospitals need many. As the total number of jobs for medical assistants continues to grow, the high turnover rate in the occupation will also create many openings each year.
Working Conditions
Doctors' offices, hospitals, and clinics are busy and challenging places in which to work. The duties are generally varied. Medical assistants typically work forty hours per week. Those who work in private offices may work some evenings and Saturdays.
Earnings and Benefits
Earnings depend on training, experience, size of practice, and geographic location. Medical assistants who have an associate degree generally earn more than those who have little or no training. The median income for medical assistants was $24,610 per year in 2004, according to the Bureau of Labor Statistics. Wages are typically higher in the Northeast and the West. Benefits usually include paid holidays and vacations. Medical assistants who work for clinics, hospitals, and group practices also receive health insurance and pension plans.
Additional topics