Office Manager Job Description, Career as an Office Manager, Salary, Employment
Definition and Nature of the Work, Education and Training Requirements, Getting the Job
---
---
Education and Training: College
Salary: Median—$41,030 per year
Employment Outlook: Fair
Definition and Nature of the Work
Office managers supervise administrative support workers, such as office clerks and secretaries, and coordinate administrative support activities. They work in all types of business and government offices. Office managers may head the entire office in a small firm or administrative support operations in a department of a large company. In either case the manager is responsible for directing workers and seeing that their jobs are done efficiently.
---
---
Office managers often decide what administrative support duties are needed in their department or company. Office managers decide what qualifications are necessary to perform the job. For instance, an office manager in an accounting firm may decide that an applicant requires a bachelor's degree to fill the job of accounting clerk. In many offices the manager helps to hire administrative support staff and is in control of promotions. Office managers devise training programs for new workers. Some are also responsible for determining salaries and working conditions. Managers make sure that job duties are not unnecessarily duplicated in the office. Managers often redefine duties in order to achieve maximum efficiency. They may devise a new job or eliminate an existing job. For instance, if a receptionist has too much filing to do, another person may be hired to file. Then the receptionist is free to answer telephones and greet visitors.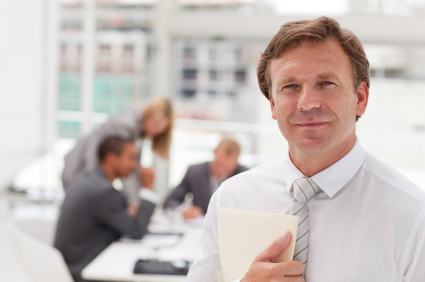 Office managers decide how much time it should take to do each job. Much of a manager's time is spent planning and developing work schedules. If new equipment would make a process more efficient, the manager orders the necessary machinery. For example, a faster copying machine might be ordered to reduce the time it takes employees to make copies.
Office managers are responsible for reporting to higher management and acting as liaisons between administrative support and the senior management. They report on the progress made by their departments in meeting company goals. The office manager takes direction from senior management and translates Office managers work with employees at many different job levels to instruct them and see that their jobs are done efficiently. (Royalty-Free/Photo Disc, Inc. Reproduced by permission.) these directions into working practice. They must be able to communicate clearly. In addition, managers should be decisive, observant, and innovative. The position requires analytical ability as well as tact.
Education and Training Requirements
Most positions in office management require a college degree in business, although workers with only a high school diploma sometimes work their way up to managerial positions. College course work in accounting, administrative and personnel management, and data processing are especially useful. There are a number of home-study courses available for people who cannot attend college.
Office managers are often trained on the job. Many companies and government offices have management trainee programs. Sometimes trainees start by working for a short time in each of the company's departments to find out how the company functions. They work under the supervision of an experienced manager. Some companies send employees to courses and seminars at business schools or colleges to learn management techniques.
Getting the Job
A college or business school placement office can help graduating students find a position as a management trainee. State employment service and private employment agencies also list jobs in management. Interested individuals can write to various companies to inquire about jobs, and they can ask to leave an application on file if there are no immediate openings. In addition, the classified sections of newspapers list both beginning and top management openings. Candidates should also look in job sites on the Internet.
Advancement Possibilities and Employment Outlook
Office managers usually start as assistants and progress to jobs of greater responsibility as supervisors of large numbers of employees. A few office managers advance to top management positions in their firm. Some go into business for themselves. Their training makes them qualified to run many kinds of businesses. They can also become management consultants to various companies.
According to the U.S. Bureau of Labor Statistics, office and administrative support supervisors and managers held 1.5 million jobs in 2004. Employment of office managers was expected to grow more slowly than the average for all occupations through the year 2014. New technologies have eliminated many administrative support jobs as well as the need for someone to manage people in these jobs. Growth in the size and complexity of organizations in both the public and the private sectors, however, will require increasingly sophisticated management techniques, and the demand for skilled administrative specialists will continue to be strong.
Working Conditions
Office managers usually work forty hours per week, although they often spend additional time working on projects or attending meetings. Most of a manager's time is spent in the office. Office managers are under pressure from top management to make the administrative support operations of their departments run smoothly. They are also under pressure from their employees who may require the manager's time and assistance. Managers must get along well with all of these people.
Earnings and Benefits
Office managers earned a median yearly salary of $41,030 in 2004, according to the Bureau of Labor Statistics. Salaries vary with the size of the office in which a manager works, with large corporations usually paying the highest salaries. Benefits often include paid vacations, holidays, and health insurance. Some companies offer pension and profit sharing plans to their managers.
Additional topics