Computer Network Technician Job Description, Career as a Computer Network Technician, Salary, Employment
Definition and Nature of the Work, Education and Training, Getting the Job
---
---
Education and Training: College
Salary: Median—$60,600 per year
Employment Outlook: Excellent
Definition and Nature of the Work
Computer network technicians build and maintain computer networks used by business, education, government, and health-care institutions. Networks linking desktop computers allow users to send electronic mail (e-mail) and to share data, computer applications, and Internet connections. As more institutions establish computer networks, the demand for skilled computer network technicians will grow.
---
---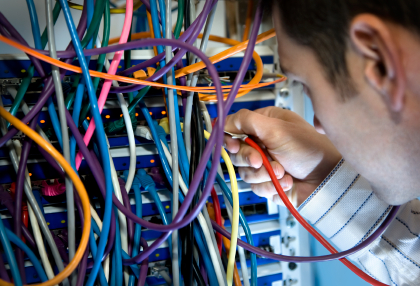 Computer network technicians, which are also known as computer network engineers or network specialists, must know current standards and terminology used for local area networks (LANs) and larger wide area networks (WANs). They often help plan their employers' computer networks and then implement the planned networks. Most commonly, network technicians administer existing computer networks and troubleshoot problems as they arise.
Planning a computer network entails analyzing costs and needs of a company and then selecting the appropriate media (e.g., twisted-pair copper wire, coaxial cable, fiber-optic cable, wireless) for a given situation. Computer network technicians may also recommend appropriate network addressing systems, appropriate layouts for various network configurations, and appropriate connection devices.
Implementing a computer network entails designing and following administrative plans to meet specific needs such as account management and security. Much of the work involved in implementing a network consists of installing, configuring, and resolving conflicts among different hardware used in the network, such as network adapters.
Administering and troubleshooting a network entails identifying and resolving network performance problems. Technicians identify problems common to Computer network technicians plan or design, implement, and troubleshoot computer networks for businesses and other institutions. (Photograph by Kelly A. Quin. Thomson Gale. Reproduced by permission.) components of the network, such as cards, cables, and other related hardware. They also establish disaster recovery plans for various situations if the network were to malfunction.
In addition to knowing relevant computer and networking terminology, protocols, and hardware, computer network technicians must have mastered necessary software, including different operating systems such as Novell NetWare, Unix, and Windows. They must also understand basic network architecture models such as peer-to-peer and client-server.
Computer network technicians need self-discipline and the ability to balance a variety of tasks. A technician must be able to spend long hours at a keyboard debugging a program and be dexterous and patient enough to weave a complex web of wires.
Because network technicians often provide technical support to network users, they must be able to help nontechnical people understand and use complex equipment and software. In addition to technical expertise, employers often require network technicians to excel in verbal and written communication and to have good interpersonal skills.
Education and Training
Employers hiring computer network technicians look for candidates with formal training in computer science. Educational requirements usually include at least a bachelor's degree in computer science, electrical engineering, telecommunications, or a related field of study. High school students interested in pursuing this type of work should study mathematics, computer science, and physics.
Candidates for jobs in this field may also need specific training certification in various networking specialties. For example, Novell Software has established a training program in which candidates earn certification as a Certified NetWare Engineer (CNE) after passing a series of seven tests that cover all aspects of planning, installing, maintaining, and communicating between networks using the Novell NetWare operating system. A consortium of computer technology companies including Hewlett–Packard and Cisco Systems offers an examination and certification program, awarding successful candidates the title Certified Network Expert (CNX). Other manufacturers and industry groups offer certification programs for specific network specialties.
Getting the Job
Computer network technicians are employed by businesses or institutions that operate a computer network or by consulting firms hired by an institution to plan, implement, and/or maintain a network. Candidates can find listings for these jobs on a variety of Internet sites, in trade publications, and in newspaper classified ads. Colleges and trade schools preparing students for CNX or another type of certification may also provide job placement services for successful students.
Advancement Possibilities and Employment Outlook
According to the U.S. Bureau of Labor Statistics, 231,000 network technicians were employed in 2004. Employment of qualified computer network specialists was expected to grow much faster than the average for all occupations through the year 2014. The number of computer network users will likely increase, and the underlying technology will evolve. Skilled technicians who keep their skills current will be valuable employees to the businesses, institutions, or consulting firms who hire them.
In a typical career path, a computer network technician could start out as a basic troubleshooter or equipment servicer. The technician would gain more responsibility as the existing network grows. Adding CNE and/or other certifications would qualify the technician for a position as a network manager.
Technicians with a knack for communicating with nontechnical associates may advance to careers as network trainers. To teach the rapidly evolving technologies, network trainers must continually update their knowledge.
Working Conditions
Computer network technicians usually work in clean, well- lighted office buildings. The nature of their work may require them to spend time working in a variety of locations, solving problems with individual computers or other parts of the network such as servers or connecting cables.
The growing importance of computer networks to business, education, and health-care institutions demands that technicians often work long hours, including weekends and holidays, troubleshooting and/or setting up needed extensions to their employers' networks. Technicians can face fatigue and stress-related illness. They also may encounter eye and back strain along with other physical problems associated with prolonged computer use.
Earnings and Benefits
Computer network technicians' salaries vary widely based on experience, certification, and place of employment. The Bureau of Labor Statistics reported that the median annual wage for network technicians in 2004 was $60,600. According to the "Computerworld Salary Survey 2005" (Computerworld, October 24, 2005), the median yearly wage for a network engineer was $70,365 in 2005. Those in management jobs earn more. Because qualified technicians are in such demand, employers offer competitive benefits packages as well as incentive bonuses.
Additional topics