Bank Teller Job Description, Career as a Bank Teller, Salary, Employment
Definition and Nature of the Work, Education and Training Requirements, Getting the Job
---
---
Education and Training: High school
Salary: Median—$21,120 per year
Employment Outlook: Fair
Definition and Nature of the Work
Bank tellers receive and process money when customers make deposits. They also distribute money when customers write checks on their accounts or withdraw savings. Tellers perform many other services as well. They cash payroll checks, exchange foreign currency, receive loan payments, and issue traveler's checks. Tellers work in large city banks as well as small branch banks in suburbs, towns, and rural areas. Some tellers work for other financial institutions such as savings and loan associations.
---
---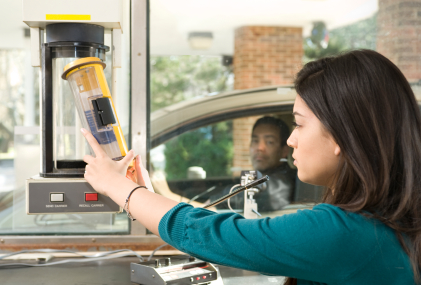 Tellers are also responsible for recording the transactions they perform. For instance, each deposit is recorded on a deposit slip that is filled in by the customer. The teller validates, or checks, the deposit slip and stamps it by machine to show that it was checked and accepted at that date and time. Some tellers work with machines that automatically enter deposits and withdrawals into the bank's ledger or records. Tellers also validate checks before cashing them. Tellers must be able to identify the customers for whom they cash checks by asking for a personal identification number, checking for photo identification, or comparing the customer's signature to the one the bank has on file. In addition, tellers often check the computer at their station to see whether customers have enough money in their accounts to cover the personal checks they want to cash.
Tellers start the day with a certain amount of cash in their cash drawer. They are responsible for this money and for all the checks, deposits, loan payments, and other monies they receive during the day. As they work, tellers keep track of all the transactions that they perform. After banking hours the tellers settle their accounts by filling out a settlement sheet. The settlement sheet reflects the day's activities. It helps the tellers check their own work to see that their transactions have been done accurately. Tellers calculate the amounts on the deposit slips to find the total amount of money received for the day. They add up the amounts on all the checks to find the total amount of money paid out. After accounting for all of the transactions and entering them onto the settlement sheet, the teller knows how much cash should be in the cash drawer. The teller counts the cash to see whether the dollar total is the same as that on the settlement sheet. If the totals match, the teller has finished work for the day. If the totals do not match, the teller must look for the mistake. Tellers are required to settle before leaving the bank.
Some tellers perform specialized tasks. In large banks one teller may take only savings account deposits and another may cash payroll checks. Sometimes experienced tellers are given specialized jobs that are more complex. Vault tellers, for instance, keep records of the cash and checks that come in and out of the bank's vault over the course of a day. All tellers must be able to work with details. It is important for tellers to be able to perform routine tasks quickly and accurately.
Bank tellers deposit checks and withdraw money for customers. Eventually they can specialize in more complex transactions such as taking real estate loan payments. (© William Taufic/Corbis.)
Education and Training Requirements
Banks usually hire high school graduates. They prefer those who have had some clerical experience. Students can prepare in high school for a job as a teller by taking business math or courses in which they learn to use computers and other business machines. Many banks offer a few classroom training sessions to new tellers. These sessions are followed by on-the-job training, during which a trainee observes an experienced teller. The trainee gradually learns the bank's methods and record-keeping techniques as well as how to operate any machines used by the bank.
Bank tellers are responsible for large sums of money. Therefore banks bond, or insure, their tellers against possible losses of money through error or theft. The bonding company asks for references from the teller and may investigate the teller's background before selling the insurance to the bank.
Getting the Job
Many tellers are promoted to their jobs from beginning clerical jobs. However, some people start as tellers without any previous bank experience. Prospective tellers can contact banks directly or through state and private employment agencies. They can also check Internet job sites and classified ads of local newspapers for advertised openings.
Advancement Possibilities and Employment Outlook
In large banks beginners usually specialize in doing one simple type of transaction, such as taking checking account deposits. Eventually they learn to handle other transactions. Then tellers can specialize in more complex transactions, such as taking real estate loan payments. Some tellers become head tellers who supervise the work of the other tellers in their branches. They also direct the training of new tellers. Some tellers become assistant managers in a branch office of their bank. These tellers usually take college courses in banking or courses offered by the banking industry.
According to the U.S. Bureau of Labor Statistics, tellers held about 558,000 jobs in 2004. Roughly one-third of these were part-time employees. Employment of tellers was expected to grow more slowly than the average for all occupations through the year 2014 because of the increased use of automatic teller machines and automated systems that allow customers to do their banking over the Internet and the phone. However, there will be new positions for full- and part-time tellers because banking provides a relatively large number of job openings.
Working Conditions
Banks are usually pleasant places to work. Full-time tellers work between thirty-five and forty hours a week. Overtime may be required once per week or more. As banks expand their service hours, tellers may find it necessary to work shifts that include evenings and Saturdays. Tellers spend a lot of time on their feet, and their work is repetitive. Because they deal with the public, tellers must be quick, courteous, and efficient when people are waiting to be served.
Earnings and Benefits
The median yearly salary for an experienced, full-time teller was $21,120 in 2004, according to the Bureau of Labor Statistics. Some banks offer incentives whereby tellers earn extra money for inducing customers to use special financial services that the bank offers.
Banks usually offer generous benefits to their employees. Besides paid vacations and up to twelve paid holidays per year, employees may participate in pension and profit sharing plans. Employees usually receive health, life, and accident insurance. Some banks help pay tuition for employees who are continuing their education.
Additional topics